=Introduction=
Please see the "simple questions" thread for day to day questions. I will be pulling relevant questions and answers from there into this thread as I find them. Hopefully this will reduce the amount of repetitive questions being posed over at the Warlock Simple Questions/Answers thread and provide a useful reference. Questions that should be in a FAQ will be in this thread.
This guide is intended to form a reference for those interested in playing demonology. It will be a work in progress. Covered are the areas that should be useful for demonology locks. If you see something missing or incorrect, please either message me or post. I will be going through the other warlock threads again for updates.
This guide is written to provide information based on patch 3.1
FAQ's
Q. Why does my pet miss 8% of the time?
A. Because the dodge from behind is not able to be mitagated.
Q. What should I do if somebody asks about pets missing 8% of the time in the thread?
A. Report them for not reading the opening post.
Q. Are there bigger questions to be asked about warlocks?
A. Yes, start
here
Q. Do I need mana feed?
A. This talent has changed from 3 points to 1 point and moved to the 21 point talent for Demonology. For the single point invesment this talent is well worth it.
Q. Wouldn't using the imp be better?
A. No, unless you are demo/conflag.
Q. Why don't you recomend using the infernal or doomguard?
A. Because are enslaved pets and as such they don't activate deep demo talents. If you have to re-summon your pet, throwing an infernal down and then rapidly re-summoning your main pet once it dies may be a good option.
Q. This <insert honorific> warlock <insert name> has this, why haven't you recommended it?
A. I'm not <insert name>, this thread isn't <insert name>'s thread. We're trying to build up a start place for raiding demo locks and a thread to capture the relevant theory.
Q. Why should I cast <insert dot name>?
A. Because the simulator suggests that it should be an increase in DPS.
Q. Should I cast CoD or CoE rather than CoA?
A. If it is an overall DPS increase for you and your raid, then yes. This is especially true where no other class is able to provide the CoE equivilant debuff. Fel/Ember could look to use CoD where the boss will be alive for more than 60 seconds but this will impact molten core up time.
Q. Should I wear <insert crappy item> or <insert other crappy item>?
A. Have a look in the tools and see what they say.
Q. Would you please test my new spec for me and tell me if it's good?
A. Untested spec posters need to read
this thread
and submit all requests for spec testing there.
Tools
Use these tools first as most gear and spell usage questions can be answered via the spreadsheet and Rawr. These tools are not a substitute for you working out what you need yourself. They are an aid only.
[table="head"]Tool|Purpose
Rawr
|Dynamic graphical tool for gear comparisons.
The Spreadsheet
|Currently does not support demonology in 3.1
Simulationcraft
|Static tool for running simulated fights based on set parameters
Acronyms/Short forms/Definitions
[table="head"]Term|Defintion
Demo|Demonology
Destro|Destruction
Meta|Metamorphosis
Ember|Emberstorm
Corr|Corruption
CoA|Curse of Agony
CoD|Curse of Doom
Immo|Immolate
SB|Shadow bolt
Soft Hit Cap|The hit cap required after modification by raid buffs and racical modifiers
Rotation|Since 3.0 this is more of a spell priority list, based on the priority the warlock needs to decide what to cast next
Conflag|Conflagurate
=Talent Specs=
The pve specs have been lifted from the
post 3.1 simulationcraft thread
. The Demo/Conflag build from the same thread is a hybrid spec that uses an imp and pops conflag on cooldown. If you think a spec will perform better than those below, please get it included in the simulation thread and I'll pick it up from there when I review the current performing demonology specs.
[table="head"]Build Name|Point Layout|Purpose|Description
Meta/Ruin|
0/56/15
|DPS with raid support|This build focuses on providing good DPS combined with a raid buff equal to 10% of the Warlock's +spell power.
Felguard/Emberstorm|
0/41/30
|DPS|This build provides higher DPS to the Warlock but has no significant raid contribution
Meta PvP|
3/58/10
|Meta based PvP|This build has the survivability talents for the warlock built in and the +hit talent to allow better gem/enchant choices
Imp/Conflag|
0/40/31
|DPS|Demo/Conflag build
Meta/noDP|
3/52/16
|DPS|Meta with no demonic pact (lower raid contribution)
Talents
This talent list is based around the talents that are used to build the most common PvE specs. They are a reproduction from information else where, but with the added notation of what is core and which build. I have not covered out the PvP talents.
[table="head"]Talent|Tree|Talent Tier|Desireability|Build|Description
Demonic Embrace
|demo|tier 1| Core|all|Increases your total Stamina by 10%.
Fel Synergy
|demo|tier 1| Core|all|You have a 100% chance to heal your pet for 30% of the amount of spell damage done by you.
Demonic Brutality
|demo|tier 2| Core|all|Increases the effectiveness of your Voidwalker's Torment, Consume Shadows, Sacrifice and Suffering spells by 30%, and increases the attack power bonus on your Felguard's Demonic Frenzy effect by 3%.
Fel Vitality
|demo|tier 2| Core|all|Increases the Stamina and Intellect of your Imp, Voidwalker, Succubus, Felhunter and Felguard by 15% and increases your maximum health and mana by 3%.
Soul Link
|demo|tier 3| Core|all|When active, 20% of all damage taken by the caster is taken by your Imp, Voidwalker, Succubus, Felhunter, Felguard, or enslaved demon instead. That damage cannot be prevented. Lasts as long as the demon is active and controlled.
Fel Domination
|demo|tier 3| Core|all|Your next Imp, Voidwalker, Succubus, Felhunter or Felguard Summon spell has its casting time reduced by 5.5 sec and its Mana cost reduced by 50%.
Demonic Aegis
|demo|tier 3| Core|all|Increases the effectiveness of your Demon Armor and Fel Armor spells by 30%.
Unholy Power
|demo|tier 4| Core|all|Increases the damage done by your Voidwalker, Succubus, Felhunter and Felguard's melee attacks and your Imp's Firebolt by 20%.
Master Summoner
|demo|tier 4| Core|all|Reduces the casting time of your Imp, Voidwalker, Succubus, Felhunter and Fel Guard Summoning spells by 4 sec and the Mana cost by 40%.
Mana Feed
|demo|tier 5| Core|all|When you gain mana from Drain Mana or Life Tap spells, your summoned demon gains 100% of the mana you gain.
Master Conjuror
|demo|tier 5| Core|all|Increases the combat ratings gained from your conjured Firestone and Spellstone by 300%.
Master Demonologist
|demo|tier 6| Core|all|Grants both the Warlock and the summoned demon an effect as long as that demon is active.
Demonic Empowerment
|demo|tier 7| Core|all|Grants the Warlock's summoned demon Empowerment.
Demonic Knowledge
|demo|tier 7| Core|all|Increases your spell damage by an amount equal to 12% of the total of your active demon's Stamina plus Intellect.
Demonic Tactics
|demo|tier 8| Core|all|Increases melee and spell critical strike chance for you and your summoned demon by 10%.
Decimation
|demo|tier 8| Core|meta|When you Shadowbolt or Incinerate a target that is at or below 35% health, the cast time of your next Soulfire is reduced by 60%. Soulfires cast under the effect of Decimation cost no shard. Lasts 10 sec.
Improved Demonic Tactics
|demo|tier 9| Core|meta|Increases your summoned demons critical strike chance equal to 30% of your critical strike chance.
Summon Felguard
|demo|tier 9| Core|all|Summons a Felguard under the command of the Warlock.
Nemesis
|demo|tier 9| Core|meta|Reduces the cooldown of your Demonic Empowerment, Metamorphosis, and Fel Domination spells by 30%.
Demonic Pact
|demo|tier 10| Core|meta|Your pet's criticals apply the Demonic Pact effect to your party or raid members. Demonic Pact increases spell power by 10% of your Spell Damage for 12 sec. Does not work on Enslaved demons.
Metamorphosis
|demo|tier 11| Core|meta|You transform into a Demon for 30 sec. This form increases your armor by 600%, damage by 20%, reduces the chance you'll be critically hit by melee attacks by 6% and reduces the duration of stun and snare effects by 50%. You gain some unique demon abilities in addition to your normal abilities. 3 minute cooldown.
Improved Shadow Bolt
|destro|tier 1| Core|meta| Increases the damage done by your Shadow Bolt spell by 5%, and your Shadow Bolt causes your target to be vulnerable to spell damage, increasing spell critical strike chance against that target by 5%. Effect lasts 30 sec.
Bane
|destro|tier 1| Core|all|Reduces the casting time of your Shadow Bolt. Chaos Bolt and Immolate spells by 0.5 sec and your Soul Fire spell by 2 sec.
Aftermath
|destro|tier 2|core|fel/ember|Increases the periodic damage done by your Immolate by 6%, and your Conflagrate has a 100% chance to daze the target for 5 sec.
Cataclysm
|destro|tier 2|core|fel/ember|Reduces the Mana cost of your Destruction spells by 10%.
Ruin
|destro|tier 3| Core|all|Increases the critical strike damage bonus of your Destruction spells by 100%.
Demonic Power
|destro|tier 4|filler|fel/ember|Reduces the cooldown of your Succubus' Lash of Pain spell by 6 sec. and reduces the casting time of your Imp's Firebolt spell by 0.5 sec.
Intensity
|destro|tier 4|core|fel/ember|Reduces the pushback suffered from damaging attacks while casting or channeling any Destruction spell by 70%.
Destructive Reach
|destro|tier 4|core|fel/ember|Increases the range of your Destruction spells by 20% and reduces threat caused by Destruction spells by 10%.
Improved Immolate
|destro|tier 5|core|fel/ember|Increases the damage done by your Immolate spell by 30%.
Devastation
|destro|tier 5|core|fel/ember|Increases the critical strike chance of your Destruction spells by 5%.
Emberstorm
|destro|tier 6|core|fel/ember|Increases the damage done by your Fire spells by 15% and reduces the cast time of your Incinerate spell by 0.25 sec.
Conflagrate
|destro|tier 6|core|Demo/Conflag|Ignites a target that is already afflicted by your Immolate or Shadowflame, dealing fire damage and consuming the Immolate or Shadowflame spell
=Mechanics=
There are now three styles of play available to the demonology warlock in flavour. The first is based on the meta/ruin talent build, the second is based on the the felguard/emberstorm and the third is the demo/conflag. Each of these builds has a distinct set of effects that they are trying to bring into play. The VW build is a specific build used for tanking certain fights. (note:find reference to bliz saying this isn't intended in raids.) Included in this section are those talents and glyphs that combine with the build to make specific builds stand appart.
Meta/Ruin
Meta/Ruin is the raid contribution build of the demonology specs. It combines higher sustained burst damage with a damage increase for the raid casters. The combination of the deep (41+) demonology talents and the increased damage while in meta provide for a solid DPS combination.
Demonic Pact
Demonic Pact is the major raid contibution a Meta Lock makes to the raid. 10% of your spell power to the raid for 12 seconds provides a significant boost to parties and, at high damage levels, exceeds the bonus of the shaman totem.
With cleave and haste, frequency is in the 1.2-1.5 seconds per hit range. Unless crit chance is 100%, it's not going to have 100% uptime. With 14.5% crit and 1.5 second intervals:
Ref post
here.
Metamorphosis
This is the defining talent for this build, it provides a 20% DPS increase and increases melee survivability in PvP. Given the significant DPS increase of this talent it is best to delay using it at the start of combat to avoid stripping agro quickly. In a fight that has a DPS race it may be best to save for the heroisim/bloodlust. There is greater support for metamorphosis with talented cooldown reduction and glyphed extended duration.
Demonic Tactics
The increased critical strick from this and improved Demonic Tactics combine to give a significant boost to Demonic Pact uptime. The uptime is based on the critical strike rating of the felguard and both of these directly increase critical strike, and hence Demonic Pact up time.
Felguard/Emberstorm
Fel/Ember is a personal DPS build of the demonology specs. In Simulationcraft and WWS parses it is consistently demonstrated as a sustained DPS build with little variation in rotation regardless of the fight stage. The combination of the felguard and the mid tier (down to 30) destruction talents provide a solid DPS combination. If Immolate drops the DPS of this build drops significantly.
Demonology/Conflagrate
Demo/Conflag is a personal DPS build that resembles the destruction lock style of play. It involves keeping up the three dots, using incinerate as a filler and using conflagrate on cooldown. The conflagurate glyph is essential for making this build work. The pet for this build is imp.
General Demonology Mechanics
Both Felguard builds are highly reliant on their pets for sustained damage. Judicious use of life taps, fel synergy and paying attention to positioning make the Felguard a potentially great source of damage. Fundamentally, all builds apply 3 dots, spam a filler and keep the dots going.
Souldrain is no longer a suitable execute for either spec as there is now soulfire available to execute from 35%. Soulfire requires application on the landing of either Incinerate or Shadow bolt, then casting of soul fire. Effectively this makes for a 2:1 rotation of filler to execute in the worst case and 1:1 rotation in the best.
=The Basic Rotation=
The Demonolgy priority is the same for the PvE DPS specs. They have a focus on keeping DoTs up and using a single filler spell to do the majority of the damage. The rotation is no longer king. Look at priorities, they'll tell you what to do next. The rotations below are not law but an indicator of priority. If you have chosen to go conflagrate, then you need to be using it on every cool down while Immolate is on the target.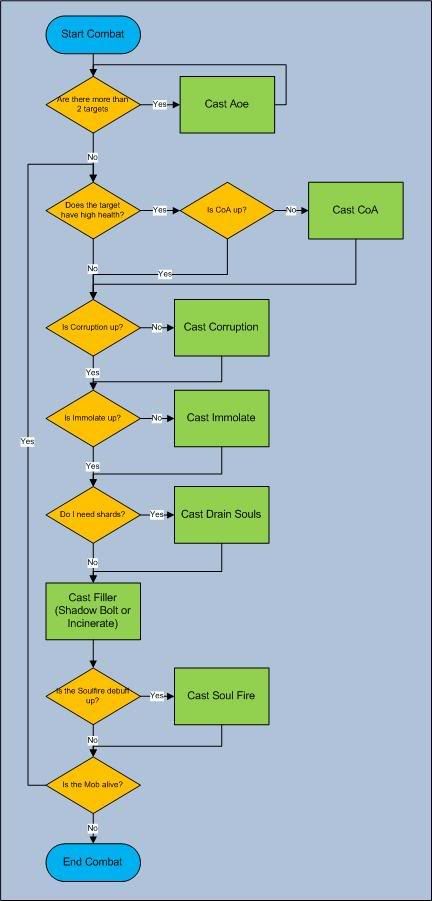 =Stats=
The
Combat stat ratings
thread has covered stats more fully.
In general, hit rating is preferred to get soft capped, then damage becomes more important. Hit rating is not always the cheapest way to increase DPS even when not capped. Haste, Crit and Spirit are similar in value and at a raid level of gearing all offer a similar DPS gain. Demonic Pact warlocks should prioritise Crit to ensure a good uptime and hence raid buff.
Hit Rating
Note: there is NO MAGIC NUMBER for hit rating. These caps are posted so that they are not exceeded. If in doubt, use the spreadsheet. It is possible to maximise performance with less than hit cap, but it is generally advised against. From the combat rating thread with 26.23199272 hit rating required for each percentage of hit required.
Hit rating caps at level 80
[table="head"]Mob |Required |Rating |w. Druid/SP |w. drenai
Boss |17 |446 |367 |341
82 |6 |157 |79 |52
81 |5 |131 |52 |26
80 |4 |105 |26 |0
Affects Hit Rating
Reduces by:
3% for Moonkin or Shadow priest
1% for Drenai
1% for each point in Suppression
Soft hit capping is still required if you want to remove resists on soul shatter. The importance of this depends on whether you can get to being threat capped.
Gems, Precision and Icewalker enchants can be used to improve hit rating.
=Pets=
The choice of pet for a Demonologist is normally simple. If you've got 41 points in the tree, get the Felguard else use the imp. The pet inherits your hit rating, but the Felguard applies that rating in the same way that melee does. The pet requires 8% hit rating to avoid misses (as per 2H weapon in melee combat), but has zero expertise. This means that normal parry and dodge apply in the melee hit table. Please when reading a WWS parse, don't read dodge/parry as miss, you'll only look foolish when complaining here about pet misses. The pet thread is
here
.
Pet Attack Power to DPS Conversion
Taken from
here
and
here
.
It appears the attack pets of the Felguard and Succy get 1 DPS per 11.11 AP, not 14 like melee classes. This means the DPS from the tooltip is affected by a percentage-based boost - 26%, to be exact (14 / 11.11 = 1.26) for DPS pets. Unholy Power the main culprit, contributing 20%. The extra 6% come from a modifier applied to each DPS pet and a reduction of up to 20% applies to the Voidwalker and Felhunter.
The formular for calculating the actual DPS is:
The modifying coefficients appear (through testing) to be:
Felhunter = 0.80
VW = 0.86
Succy = 1.05
FG = 1.05
Felguard
Felguard is the staple pet of the Demonology Warlock. A Lock is able to use the following to buff the Felguard:
Demonic Brutality
Demonic Frenzy
Scroll of Strength VIII
(Add Hysteria / Battle Shout with a DK / Warrior)
Kibler's bits is the preferred pet food as it does not use
northern spices
.
Typical usage of a Felguard in PvE is defensive stance and letting the pet engage on first cast. With the Fel Synergy talent and Mana Feed the Felguard is a very low maintenance. In fights with high movement and tank movements the Felguard is prone to being cleaved and needing to be withdrawn and sent back in. In some fights the Felguard is not able to be used effectively and the ranged imp must be used. In a raid situation you should not need mana feed.
Doomguard
High DPS pet that requires completion of a quest chain to obtain. Creates a higher shard usage pattern and uses 1g reagents for each 15 minute summon. Doesn't activate deep Demo talents.
Infernal
Gimmic pet, lasting 1 minute and doing high dps. Requires completion of a quest chain and forces the resummoning of the original pet once the minute is up. WWS is indicating approx 2.5x Felguard damage for the duration but does not activate deep Demo talents.
Succubus
Lower DPS fragile pet with the ability to CC.
Felhound
Lower DPS pet with "buffs" and a cooldown dispel.
Imp
The Imp is the core pet for the Demo/Conflag warlock. It uses the same raid buffs as the warlock and has no pet food that assists it. It is also a useful alternate for felguard locks that are in a melee unfriendly fight.
=Character differentiation=
This section reflects thinking on the way to customise your character and improve performance. Please use the simulator and spreadsheet to validate any decisions prior to investing gold.
Recommended Major Glyphs
[table="head"]Glyph|Build|Function
Glyph of Life Tap
|Common|When you use Life Tap, you gain 20% of your spirit as spell power for 20 seconds.
Glyph of Felguard
|All felguard|Increases the Felguard's total attack power by 10%
Glyph of Metamorphosis
|Meta|Increases the duration of your Metamorphosis by 6 seconds
Glyph of Incinerate
|Fel/Ember|Increases damage of Incinerate by 5%.
Glyph of Conflagrate
|Demo/Conflag|Your Conflagrate spell no longer consumes your Immolate or Shadowflame spell from the target
Glyph of Immolate
|Demo/Conflag|Increases theperiodic damage of your Immolate by 10%
Recommended Minor Glyphs
[table="head"]Glyph|Build|Function
Glyph of Drain Souls
|all|Chance of granting an additional soul shard on drain soul
Glyph of Souls
|all|Reduces the mana cost by 70%
Glyph of Unending Breath
|all|Increases the swim speed of targets affected by your Unending Breath spell by 20%.
Recommended Gems
[Table="head"]Colour|Options
Metagem|Chaotic
Red|Runed (damage) or Veiled (hit/damage)
Yellow|Rigid (hit) or Veiled (hit/damage) or Reckless (haste/damage)
Blue|Purified (spirit/damage)
Below the spell hit cap aim for hit rating and specific colours to activate a meta gem.
Gear
Use the spreadsheet first and foremost, most answers on what is better can be answered through plugging in the gear and seeing the affect. This
site
or this
site
may help you find upgrades.
Professions
Taken from
here
, the conversation didn't concluded on any of this so it will need to be a work in progress.
Tailoring
: The
Lightweave
tailoring enchant now sometimes grants a temporary spell power bonus instead of dealing direct damage to your target. This is now the equivilant of the other profession upgrades.
Enchanting
: 38 spell power atm (2x
this enchant
).
Blacksmithing
: 38 spell power atm (2 extra sockets for 19 spellpower each). Once epic gems are introduced, this will rise to 46.
Leatherworking
: 37 spell power (using
this recipe
, which adds 67 compared to the 30 which can be applied by an enchanter).
Inscription
: 37 spell power (using
this inscription
, which adds 61 spell power and 15 crit rating compared to 24 spell power and 15 crit rating which can be obtained from the Sons of Hodir at reputation status exalted).
Alchemy
: 37 spell power when using a
Flask of the Frost Wyrm
.
Herbalism
: No dps increasing affects
Jewelcrafting
: The benefit is 39 spell power straight, when comparing 3x32 to 3x19 spell power gems. This will be reduced to 27 spell power. There is a lot of conversation on prismatic gems and meta function.
Enchants
[table="head"]Slot|Enchant Options
Weapon|
Mighty Spellpower
Chest|
Powerful stats
Cloak|
Wisdom
or
Haste
Bracers|
Superior Spellpower
Gloves|
Exceptional Spellpower
Legs|
Brilliant Spellthread
Boots|
Spirit
or
Icewalker
There are lesser versions of the spellpower enchants and boot enchant.
Consumables
[table="head"]Type|Name
Flask|
Flask of the Frost Wyrm
Elixir|
Accuracy
or
Spellpower
combined with
spirit
Food|In general use spellpower food unless you are not soft hit capped as it gives the best value for stat investment. Generally either
salmon
or
shoveltusk
are preferred for maximising spell power.
Snapper
or
worg
are preferred for maximising hit rating.
=Add-ons=
There are no must have Demonology specific addons.
=Macros=
There are no must have Demonology specific macros.
=Known Bugs=
Please follow the
Warlock Bug
thread for bug updates.
=Copyright=
This article is the original work of Splot and relevant Elitist Jerks forums contributers. The article and all future versions of the article are licensed under the terms of the Creative Commons Attribution-NonCommercial-ShareAlike 3.0 License. Reproduction of the article in full or in part, or derivative works based on the article, including translations, are permitted as long as:
The reproduction or derivative work includes a direct link to the original article (permanent link) and prominently displays the name of the original author.
The reproduction or derivative work is not used for commercial purposes or for profit.
The reproduction or derivative work is also released under the terms of the Creative Commons Attribution-NonCommercial-ShareAlike 3.0 License.
The full text of the license agreement may be viewed
here
or via written request to Creative Commons, 171 2nd Street, Suite 300, San Francisco, California, 94105, USA.
=Change log=
v1.0.0 090424 First release