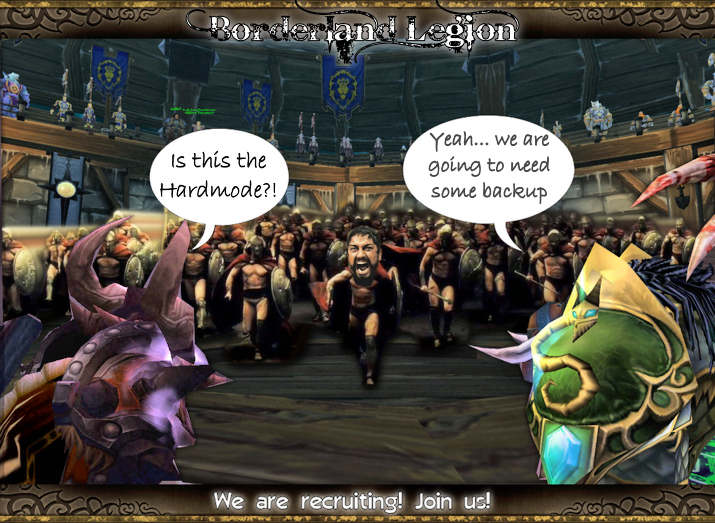 About us:
Borderland Legion
is one of the oldest Horde guilds on Runetotem, with members who have been around since the dawn of the server. While we are and always have been successful end game raiders we highly value friendship and camaraderie. Your personality and ability as a player is more important to us than how much gear you have.
We are a mature guild with an 18+ age requirement, with quite a fair number in the 30's bracket. We do not use DKP, preferring a loot council. We do not enforce any attendence requirements, you play when you want, agreeing with your role members who comes and who sits out for particular encounters - I think we are fairly unique in this aspect.
Currently we're exploring the depths of Ulduar like everyone else. Thus far we are now at Algalon in the 10man and our 10man team is riding around on protodrakes. We have fully cleared Ulduar in 25man, and have cleared the bosses in 25man Trial of the Crusader. We have also obtained the legendary mace for one of our guild members and he is now happily pretending to be a paladin with all those bubbles. We're looking to boost the raid force now that summer has passed. If you're ready for Ulduar and the Trial we will be pleased, but experience and knowledge about your class is worth even more as gear can be fixed. It's not what you have but what you do with it that counts.
We're an English-speaking guild, and you can find us at the
Borderland Legion Website
.
If you're interested in learning a little about EU-Runetotem you can always have a
quick read up on the server history
.
Our 25man raiding times are as below, with optional 10man raids on off-nights in the evenings.
Wednesday: 19.30 - 23.00
Friday: 19.30 - 23.00
Sunday: 15.00 - 17.30 <-- Break --> 19.30 - 23.00
Tuesday: 19.30 - 23.00
What we are looking for:
1 Restoration Shaman
1-2 ranged DPS (Elemental Shaman / Mage)

A quick summary of the forum application section will reveal what we are looking for in an application, namely:
Evidence that you have read the FAQ on the forum before posting
An insight into your personality, your character and your experiences without divulging too much personal information
All the information from the application post template included
Clear, well-written information that has been read through thoroughly before being posted
Honesty
What we would rather not see:
L33t sp34k
Typos and bad spellings. We understand that English may not be your first language, but these things can be checked easily enough on the internet. Taking the time to do so will make a better impression.
A copy and paste of the same application as was posted to other guilds
A wishlist of all the loot you are hoping for

Attributes we consider desirable in our applicants (and our members) are:
A good basic understanding of their class and the desire to continue to improve
An ability to learn very quickly under pressure
Good social skills and maturity
Ability to follow instructions
The intention to raid consistently and regularly for the foreseeable future
Thank you for reading, we look forward to seeing your application