I originally noted this before in the Benefactor's bar because it was a rumor with very little substance, but it seems now that we have some independent confirmation. It appears that both guild banks and integrated voice chat are being worked on for, presumably, the patch after 2.1 (or maybe a patch after that, it's not clear).
First noted in a thread with Tseric arguing about shamans:
http://forums.worldo...17&pageNo=7#132
Because the UI work load is longer than anyone wants to think about. We're dealing with mass-appeal items first, like in-game VOIP, Guild banks, Additional base UI, etc.
Today there is an article in a magazine called "Games for Windows" that has details on what's coming, and "fun tid-bits" from the developers.
Thread is at:
http://forums.worldo...picId=102920289
Page rips from magazine: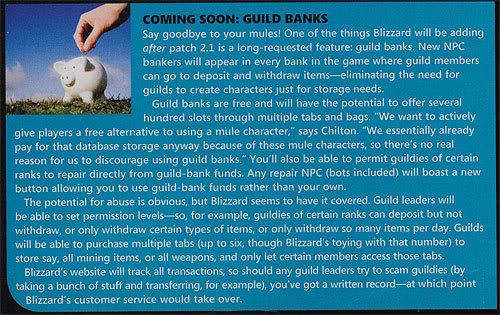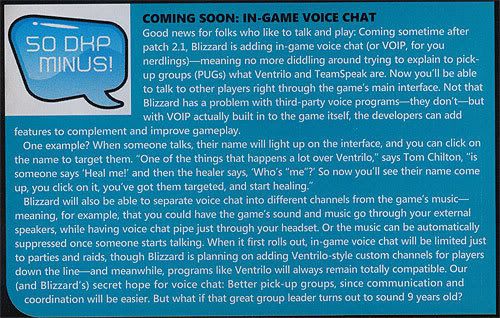 Note: I highly recommend someone mirror these asap.
Thanks for sharing, Madisor. I still need to pick up a copy of the magazine for myself. The article has fun tid-bits from the developers as well.
Don't suppose anyone can get us a scan of what the developers said?
Edit: This article was mentioned yesterday on stratics:
In the newest print issue of gaming magazine Games for Windows lead producer Shane Dabiri is quoted "And it's no secret we're working on the next expansion." Now, I'm not totally surprised by this as WoW is an MMO and essentially needs new expansions to keep itself going. The exclusive story in GFW reveals some new little tidbits coming into our game after 2.1.

Guild Banks
Some of the key features of guild banks will be the ability to allow some of your members to use the money put in the bank for repairs (from NPC's and bots, which will have a new option) and reportedly will have hundreds of slots for items and such. The potential is ripe for abuse but Blizzard will have it set up so that transactions are documented on their website and abusers can be reported and Customer Service would then get involved.

In-game VoIP
Good-bye Ventrilo and Teamspeak! Blizzard is gearing up to add VoIP straight into the game for players that will help the problem of players not knowing or recognizing someone's voice and missing a critical heal or other critical game play needs. A players name will be highlighted when they are talking and you are able to click on their name then to select them and give them their buff/heal/etc.